Remarkable Travel Destinations Especially for Seniors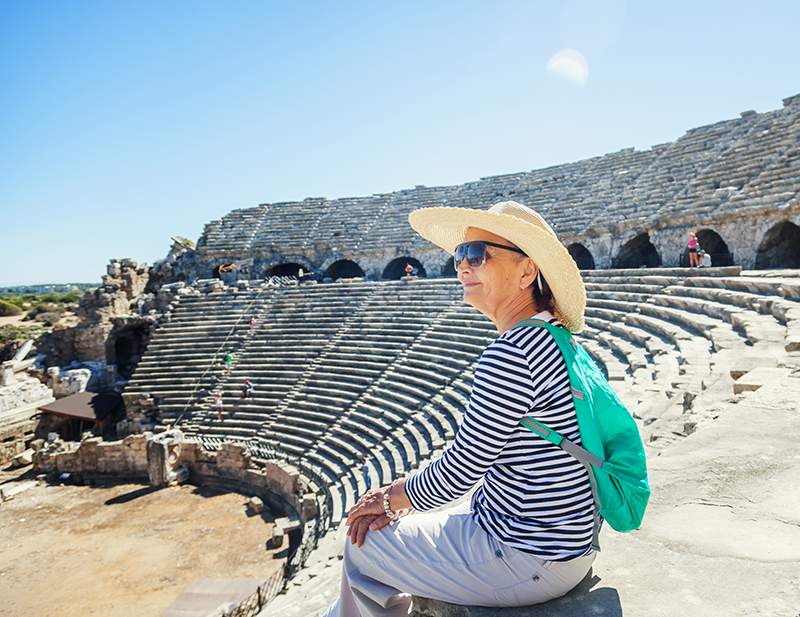 Posted:
Aug 11th, 2022
9:58 am
Are you a 50+ traveler looking for an enticing adventure? Whether you are traveling solo or with a companion, there are fantastic ways for seniors to explore exciting places and meet new friends. So, if you're considering a trip, you'll have plenty of options because many companies offer special discounts just for seniors to travel safely in style.
Cruises
Cruise ships are a fabulous way for seniors to travel the world. Whether you want a fully packed schedule with live entertainment and casinos or a relaxing voyage with rejuvenating lounge areas, cruises offer much for their mature passengers.
Depending on your desired activity level, you'll also find amenities such as swimming pools, health and fitness facilities, onboard activities, and even refreshing spa treatments. In addition, fabulous culinary delights, luxurious staterooms, and unique onshore excursions to incredible sites are available for exciting cruise destinations that will inspire your imagination.
Popular cruises include:
Europe
Egypt
The Greek Isles
Amsterdam
Alaska
New England
Mississippi River
Several cruise lines are senior friendly such as American Cruise Lines and Viking River Cruises. In addition, Oceania Cruises and Silversea Cruises feature added support designed to give mobility-impaired passengers more peace of mind. You'll even find travel agents who specialize in senior travel designed specifically for your desired level of activity.
Great Destinations
For breathtaking scenery, consider visiting the U.S national parks. There are travel packages featuring guided and independent tours of renowned U.S national parks, such as:
Yosemite
Yellowstone
The Grand Canyon
Monument Valley
Mount Rushmore
Denali National Park
Zion National Park
Luxury coach or train tours provide views of magnificent scenic beauty and spectacular landscapes in comfort. For example, AAA and Trafalgar offer a wide range of trips, including meals, hotels, and guided audio headsets for your convenience.
Educational Travel Adventures
If you're looking for a more serious journey, ElderTreks offers adventure trips specifically for 50+ travelers. More of an expedition than a vacation, ElderTreks provides unique excursions for small group tours throughout Europe, the Middle East, Asia, and South America for travelers to experience spectacular destinations and local cultures first-hand.
Expeditions to over 100 countries throughout the world include:
Enjoying African safaris
Hiking the Rocky Mountains, Himalayas, and the Andes
Sailing the Arctic and Antarctic
Exploring Greece, Turkey, Macedonia, Hungary, and more
Road Scholar offers exceptional opportunities to see the world, its wonders, and cultures up close and personal while providing an educational journey. Learn about architecture and history while being guided by experts. Road Scholar offers sea, land, rail, hike, and bike adventures. You'll also find fantastic U.S. themed trips including those organized for travel with young grandchildren.
Some popular out-of-country destinations are:
Spain, France, and Italy
Israel
Croatia
Baffin Island and Greenland
Iceland
Scotland
Peru
Canada
Helpful Travel Tips for Seniors
When traveling, it's essential to plan ahead. Life happens no matter where you go, so it's worth preparing in advance.
Check your health insurance coverage, especially when traveling internationally
Talk to your doctor about your travel plans if you have health concerns or take medication
Consider travel insurance as an added protection against unexpected circumstances
Make sure your passport and identification are up to date well in advance
Travel companies welcome seniors, and most can accommodate mature travelers' needs while also delivering fun, excitement, and the chance to learn more about the world.
As always, check to see what special offers are available and if there are any restrictions for your chosen destination. Then, your next adventure will be ready for you!